I. Overview
This article refers to the address: http://
This article will introduce how to use Intel Atom series CPU to build a high-performance, scalable hardware platform that not only meets basic vehicle requirements such as shock, wide temperature, low power, stability, and security, but also supports Microsoft Windons series operating system and wireless. Broadband internet access. Service provision can provide real-time road condition information, intelligent navigation, vehicle fault monitoring, wireless communication, mobile office, security warning, anti-theft, voice control, centralized scheduling, and assistance for high-end users with the help of existing mature software and Internet platforms. Driving high value-added applications. Utilizing the trend of network communication and information processing to grow faster and more convenient, together with communication operators and various service providers, it will open up a wider application market for on-board computers.
Second, the use of modular technology to quickly build a vehicle-mounted computer platform For customers who first contact the x86 hardware platform, they generally encounter the following major obstacles:
1. Due to the high transmission rate of the signal line, the hardware wiring is complicated.
2. The software system adopts the BIOS+OS startup mode, and the previous development investment is high.
3. When mass production, large-scale stability testing is required and the investment is high.
4. x86 development is difficult and has a long cycle.
To this end, for designers who already have extensive experience in automotive electronics design, we recommend modular design for product design. The core concept is: CPU core part with high technology content, complicated production process and relatively fixed structure, adopting mature CPU module; and related to customer demand, changing application functions such as FM, CMMB, GPS, etc. On the module backplane. In this way, designers can rely on existing product design experience to quickly launch on-board computer products with various features and support for the x86 platform.
The advantages of modular design:
Greatly reduce development risks and cycles
Significantly reduce development funding
Quickly and freely build a personalized system
Easily extend the product line
Speed ​​up the process of marketing
Third, successful case analysis
The ENC-Z510 CPU module developed and produced by Yingkang Company adopts Atom CPU Z510PT and US15WPT bridge designed by Intel for the embedded market. It has high performance, low power consumption, and supports industrial temperature and scalability. Strong, long-term production and other characteristics, has been adopted by many manufacturers, completed a variety of car computer products.
Introduction to the CPU platform
The Intel® Menlow platform consists of the AtomTM Z5XX series processor codenamed Silverthorn and the US15W bridge piece code-named Poulsbo's North-South Bridge.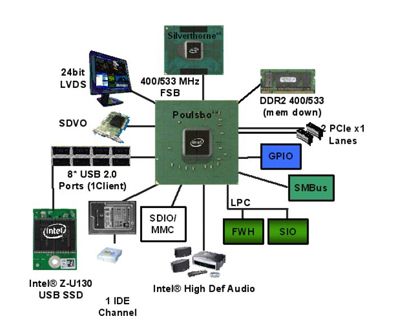 Car computer topology: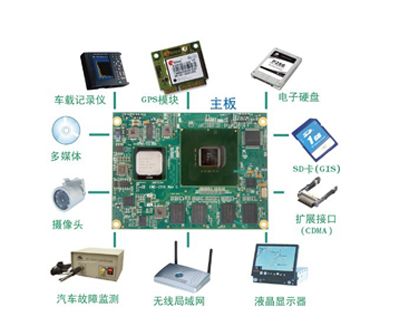 Car computer logic block diagram:
Hardware photo: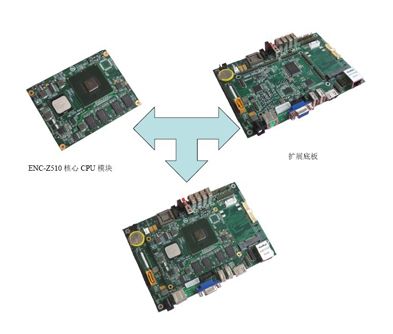 The main function of Inkcom's in-vehicle computer solution based on Intel® Menlow platform: designed for in-vehicle computers, unique products and services can help you easily build on-board computer platform and bring your products to market quickly.
The Intel Atom Z510-1.1GHz/Z530-1.6GHz processor and system control hub US15W meets the developer's high performance, high integration, and low power requirements.
Ink's ENC-Z510 module can easily expand various IO interfaces and connect various modules such as FM, CMMB, GPS, etc. Dual-screen asynchronous display and 7.1-channel stereo output can make your audio and video entertainment function different.
The ENC-Z510 module supports power management, wake-up, power-on, and shutdown control. The ENC-Z510 module allows designers to flexibly and quickly design custom-made backplanes based on specific requirements.
Intel architecture technology and Inconcort are designed to meet the needs of home and office, audio and video entertainment and in-vehicle. The wide voltage 9-19V range and low power standby feature can be quickly integrated into the in-vehicle system to support in-vehicle entertainment features including:
Bluetooth connection for mobile phone hands-free function
Video capture for visual reversing
Stereo input, output and microphone
Up to 8 USB ports for easy connection to consumer electronics such as GPS, MP3, DVD
The PCI-E bus can easily connect to 3G modules, allowing you to communicate with the outside world anytime, anywhere.
PATA and SATA interfaces make it easy to connect storage devices such as hard disks and electronic disks.
Network can implement software download upgrade and car diagnostic function
Main advantages:
Ultra-low power consumption: ultra-low heat generation, which reduces the heat dissipation requirements of the system and enhances the stability of the system; in the case of general parking, the standby mode can be adopted to facilitate the user to start the computer more quickly;
High vibration resistance: not only the main chip, CPU and memory are used in the board mode, but also the storage method is also used in the board SSD solid state electronic disk to enhance the anti-vibration capability of the entire system and increase system stability;
Super scalability: adopts core board and extended backplane mode, flexible design style, so that your backplane expansion function can be extended infinitely and flexibly, making on-board computer technology more integrated with automotive electronics applications.
Small structure: the design style of the core board makes the distribution of the functional structure of the product more reasonable, and the size design is more flexible.
Yingkang Shi Company Profile
Founded in 2000, Incons is a high-tech leader in the design, manufacture and sale of embedded industrial computers, boards, software and related products. Products are widely used in railways, transportation, electricity, electronics, water conservancy, textile, medical, communications, finance, chemical, CNC, military, aerospace and other fields. Since the introduction of the Menlow platform by Intel Corporation, Incons has introduced the mature ENC-Z510 core module for the vehicle in the first time, which makes it possible for the vehicle manufacturers to launch the onboard computer of the Menlow platform in a short time. Hand in hand, cooperation and win-win is our goal! To provide customers with quality products and satisfactory service is our unremitting pursuit!
Fourth, the conclusion
In order to meet the needs of developers who are new to Intel platforms, Intel (China) Embedded Products Division, in cooperation with Yingkang Shi and other Chinese partners, is willing to provide a full range of services for the design and manufacture of in-vehicle computers, including:
Market outlook analysis, software and hardware system design and product forward-looking and constructive recommendations
Participation in the development and development of modular on-board computers (extended backplane) specifications
Customer product structure, heat dissipation participation
Operating system (customized XP Embedded, Linux, etc.), user interface and application software development design and recommendations.
The birth of Intel Atom CPU core has injected a new development momentum for embedded applications, especially the on-board computer industry. Based on this core, Intel will continue to introduce products with higher performance, higher integration and better adapt to market demand. This is a good opportunity for the developing Chinese automotive industry to surpass the curve. The manufacturers who seize the opportunity will occupy the commanding heights of technology and market in the future development and lay a solid and solid foundation for future development.
Tubular Motors with AC power supply
Ac Tubular Motor,Radio Receiver In Tubular Motor,45Mm Receiver In Tubular Motor,Am45 Built-In Receiver Tubular Motor
GUANGDONG A-OK TECHNOLOGY GRAND DEVELOPMENT CO.,LTD. , https://www.a-okmotor.com