Vol.31(2015-12-25): The trend is divided into smart TV recommendations
Past content: sofa hardware courier
Split TV separates the display part, signal processing part and sound system of TV, consists of three parts: TV display terminal, TV host, and TV audio. It breaks the structural model of traditional TV integration and solves traditional TV. Many problems that have not been solved for a long time have greatly improved the service life, sound effects, and functionality of flat-panel TVs. Historically, TVs have been individually customized (DIY). The three components can be freely combined and upgraded. Providing necessary conditions for the development of smart TVs is a revolutionary breakthrough in the history of television development and will surely lead the new consumer concept of home appliances.
The four major advantages of Split TV:
Leading the era of software hardware upgrades at any time, environmental protection and low carbon to extend the life of the TV, restore simple and convenient wireless transmission more convenient, a machine with the best choice for triple play.
This period may wish to let sofa network (http://) Xiaobian 11 to recommend several new concept split TV.

NO.1 Millet TV 3 55 inch (Click to see detailed parameters: http://GHyoNeNnHjSqMEY.html)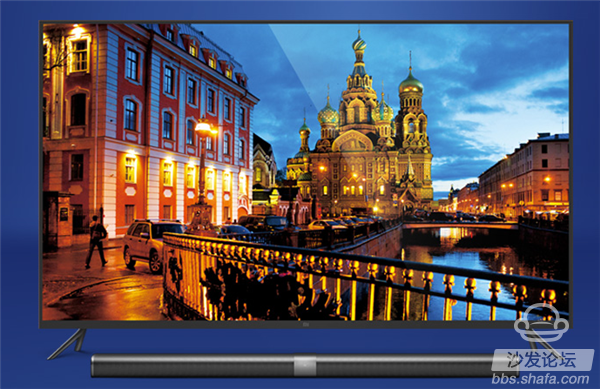 Features: Wide viewing angle, wide color gamut, no smearing Millet TV 3, original LG 55" 4K screen, wide viewing angle, high color saturation, no smearing. Ultra-thin and ultra-narrow, metal body, with independent sound, using a new split design, successfully solved the problem of screen and smart hardware service life. Divided into two parts, the TV screen and the TV host, it will design the TV main board part on the device that takes into account the dual functions of the TV host and the independent speaker. The screen only provides the display function. It is equipped with the flagship Morningstar 6A928 processor, comes standard with 2G memory, 8GB eMMC 5.0 high-speed flash memory, supports 802.11 22 dual antennas, and supports Bluetooth 4.1 features. The performance is still very powerful and can support the smooth operation of many large-scale 3D games. Support to install the best sofa butler application market Xiaomi Mall: ¥ 3999

NO.2 Storm TV55B
(Click to view detailed parameters: http://Kc1v31JeaoSgL47.html)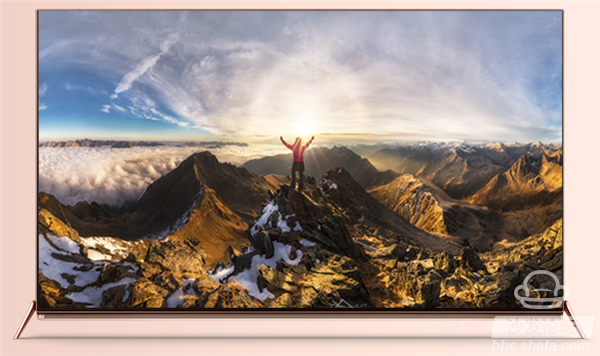 Features: Metal body, split upgrade
Storm TV55B, 4K large screen and all-metal body, breathtakingly beautiful. Rose Gold, as the popular color of digital products this year, won the favor of major manufacturers and consumers. The aircraft equipped with AmlogicT866Cortex-A9 quad-core 1.8GHz CPU and Mali-450MP48 nuclear GPU, 2GDDR3 dual channel memory and 16GB (eMMC5.0) flash memory. Security Bunny runs up to 31,297 points, performance is strong, 3D performance is good, and power consumption is low. The Super Audio TV's sound zone is located at the bottom of the screen. The integrated Sound Bar audio design has four built-in full-range and tweeters and uses a professional dbx sound system to make the undistinguished sound more brilliant and three-dimensional. High-quality audio requirements for users viewing the movie. The core part that can best reflect the concept of the TV is the TVkit (TV host) module on the back of the TV. It supports hot plugging, plug and play, and can upgrade system software and core hardware. Install the largest and best application market sofa housekeeper to expand more TV resources.
Storm Mall:Â¥4398

NO.3 Barley TV D55s
(Click to view detailed parameters: http://product.shafa.com/tv/553752aed63b40a2233be07f )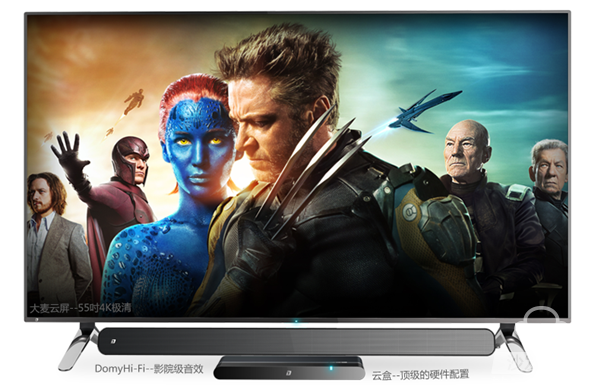 Features: See artifacts, big screen game The world's first split 4K TV powerful quad-core 1.8GHz CPU 8-core GPU is not only to see the film artifact, but also the top-level hardware configuration of large-screen gaming machines, with more powerful computing capabilities, Can easily play high-definition video, play large 3D games; watching TV is no longer just a passive choice, but more good-looking and fun, so that television once again become the center of home entertainment. 4K extremely clear quality, independent external DomyHi-Fi, experience cinematic audio and video effects, shock your heart, let the living room avatar private cinema, feel free to see. Barley split TV has 3 HDMI HD interfaces, 3 USB ports, and analog TV input AV, audio output, Ethernet and other necessary interfaces to help you connect computers, speakers, game consoles and other audio-visual equipment. Standard installation sofa butler application market makes life more colorful.
Barley Mall: ¥4999

NO.4 Cool open T55
(Click to see detailed parameters: http://HuI4GLX8Xs7ZG6H.html)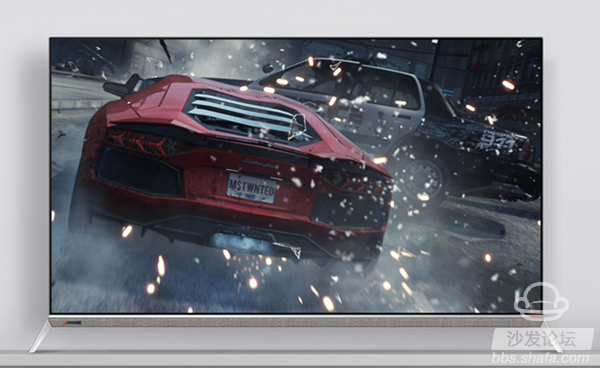 Features: Large screen game experience Cool open T55 uses LGD screen, and is the best screen body of LGD, original one imported. The thinnest point is only 7.9 mm, almost as thin as the iPhone6. The configuration uses: high performance amlogic T866 chip, CPU Cortex A9 1.8GHz 4 core, Mali 450 GPU 8 core, 2G dual channel DDR3 16GeMMC flash memory space. This configured smart core is basically equivalent to the current mainstream configuration, enough to meet daily needs. Built-in cool open 5.0 system, to achieve "three fast": fast boot, fast operation, fast update. Whether it is the modular classification of the UI interface, optimization of operating speed, multi-tasking management, intelligibility on-demand, or multi-protocol support, all bring a more enjoyable practical experience. Then the sofa butler downloaded FIFA live, Need for Speed, bring a different feeling of experience.
Jingdong Mall: ¥7999

NO.5 Music as Super 4 Max70 3D
(Click to view detailed parameters: http://O9fps3OMRgBDAKl.html)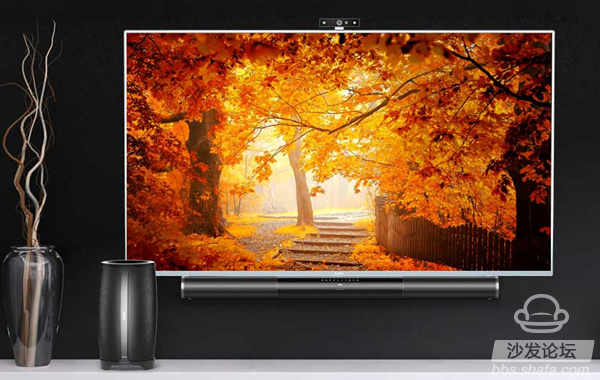 Features: ultra-thin split, great advent LeTV Super 4 MaX70, the fourth generation of super TV with a new set of hardware architecture, with Qualcomm APQ8094 SOC of the entire Department of the standard hardware architecture, this SOC is the famous Xiaolong 810 series which One model has a true eight-core configuration with quad-core 1.8GHz high-frequency A57+ quad-core A53 architecture CPU, GPU uses Adreno 430, native support for HEVC video decoding and 4K output. According to the high-end 4GB RAM, the hardware architecture of LeTV 4 Series TV can be called the top level of today's smart TV. The audio part uses a luxury-grade audio brand Harman Kardon. The sound system SoundBar consists of two silk film tweeters and four ferrite magnet midrange units. The bass has an ultra-high power of 6.5 inches and 80 watts. After the professional training of Harman's professional team, this set of sounds will be unforgettable in the live experience. In conjunction with the sofa butler, let you see at home IMaX
Leshi Mall:Â¥14999

Here we recommend to install the best TV application market - sofa butler, watching live, watching videos, playing games, listening to music, watching HD MV.... to expand your TV resources. With the above five split TVs, users can download the sofa butler TV application conveniently and quickly. After installing the sofa butler (), there are sofa network Xiaobian carefully recommended video on demand broadcast software.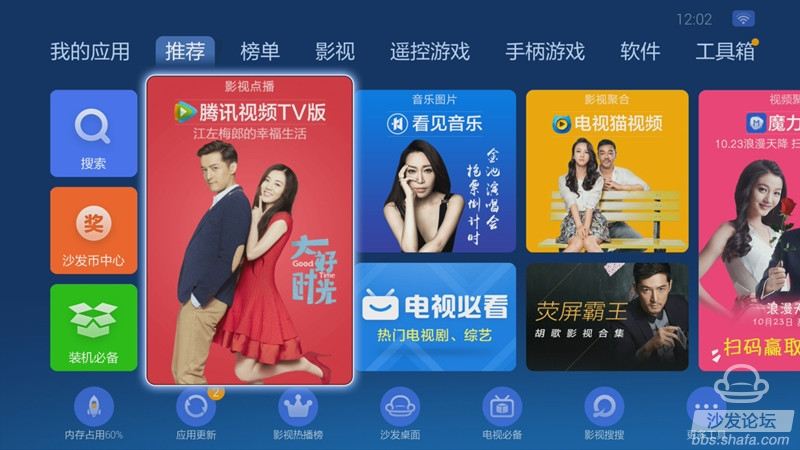 Finally, I hope that the user can buy which one of his most comfortable. If you do not find your favorite smart TV box on top, you may wish to enter our smart TV product library http:// to search for more new models.