Skyworth Box Q+ II is a product launched by Skyworth Digital in 2016. Whether it is the appearance or the system is highly innovative, especially the family can customize 3 sets of system UI, very close to meet the family of all members of the box Use claims.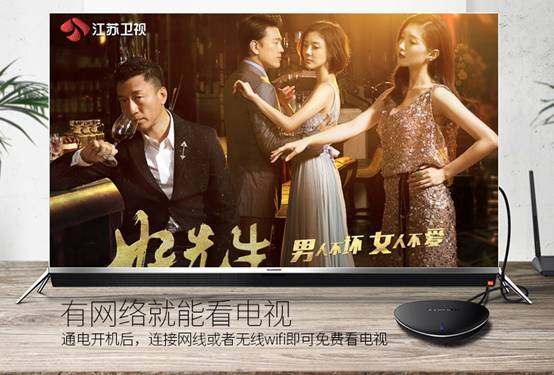 Skyworth Box Q+ II continues the industrial design of Skyworth Digital in the forefront of the world, carefully crafted with heart-shaped and mellow elements, and "Skyworth" Logo hollowed out in the center of the top surface in an engraved form. The overall shape is flat and rounded with a white edge. The decorative band is very nicely decorated.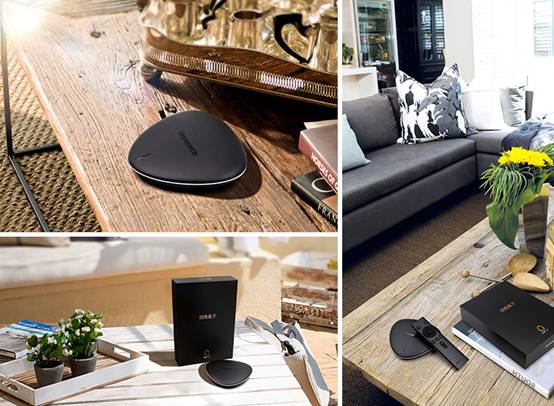 Skyworth box Q+II is equipped with an Amlogic S905 quad-core 64-bit CPU, 1GB DDR3 memory and 8GB eMMC flash memory. It is equipped with an Android 5.1 smart TV system and supports the latest H.265 encoding technology. The highest resolution is 4K, support 2.4GHz and 5GHz dual-band WiFi, support HDMI + AV dual output interface to adapt to the old and new models of television.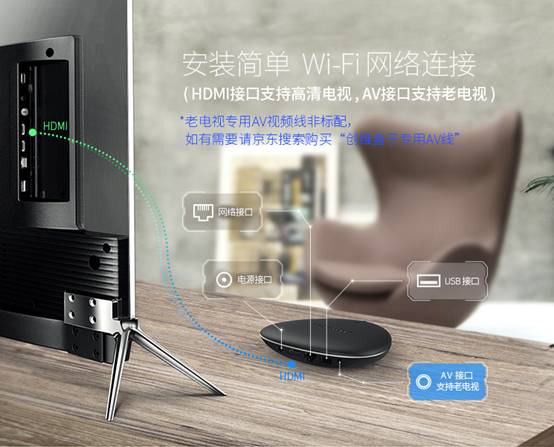 In terms of resource allocation, thanks to its strong alliance with Tencent, Skyworth Box Q+ II is equipped with the three resource services of Southern Media Interconnected TV "Connected Octagon" integrated service platform (Tencent Video), Tencent Gaming, and WeChat Cloud Album - " The Connected Octagon integrates Tencent's video cloud audio-visual program content services and is one of the seven major Internet TV licensees covering 100% of domestic cinema lines and Hollywood blockbusters from international film companies such as Warner, Paramount, Disney, etc. There are top-level IP dramas, hit TV dramas, NBA-wide singles events, and animation, variety shows, documentaries, and other types of rich resources; Tencent games, PC games and mobile games have moved to the TV screen, bring more refreshing Living room big screen entertainment enjoyment; WeChat cloud album, the social function and TV large screen combined with each other, brings family photo sharing capabilities across time and space, as long as the photos taken by the phone upload to the family cloud album, open the home TV can instantly see !
Skyworth Box Q+ II Home Box, UI upgrade to SKY UI3.0, usher in a family of customizable 3 systems, just press the menu button on the front page to instantly switch 3 systems: standard mode Enriching large-screen entertainment functions, watching movies, installing applications, and playing games, and supporting Airplay, DLNA protocol, and more interactive mobile phone games; Children's mode, massive popular cartoons, children's variety shows, children's songs, and children's video content are recommended to meet children. For growth, child locks can be set, children's health content can be locked, and parents can rest assured. In the old age mode, the large fonts are simple and elegant, and the visual comfort is easy to see. More than 680000 classic movies, TV dramas, comic dialogues, health, drama and other movie and television content are in close touch. Caring for parents' needs.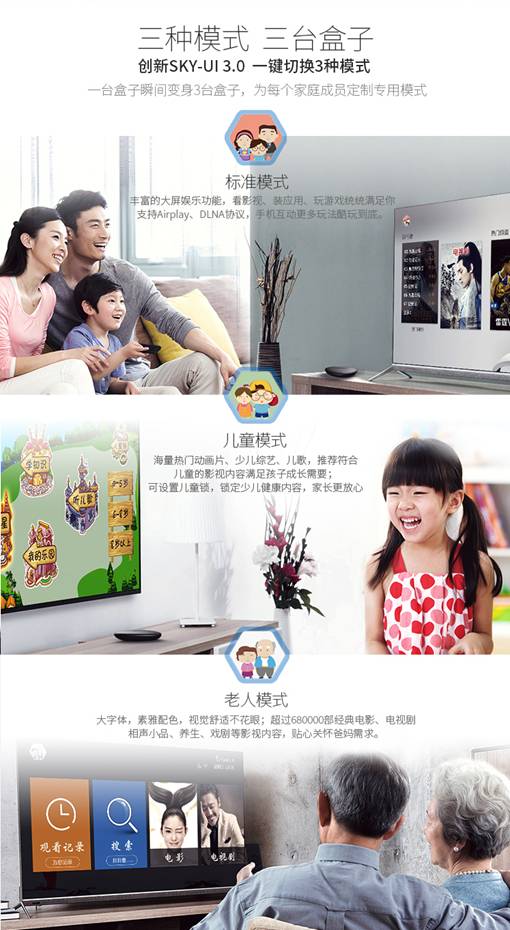 Model: Skyworth Box Q+ II
Price: 199 yuan
Purchase mall: Jingdong Mall
There are good hardware and display effects, of course, with a rich content resources, the combination of software and hardware can play the greatest value of a TV. In terms of content, it is recommended to install a sofa butler - the sofa butler is a third-party app store designed specifically for smart TVs, Android box users, carefully providing television, box users with high-quality television exclusive version of the application, including with live Or on-demand video and audio and video software, various types of recreational competitive video game software and daily office entertainment management system management tools.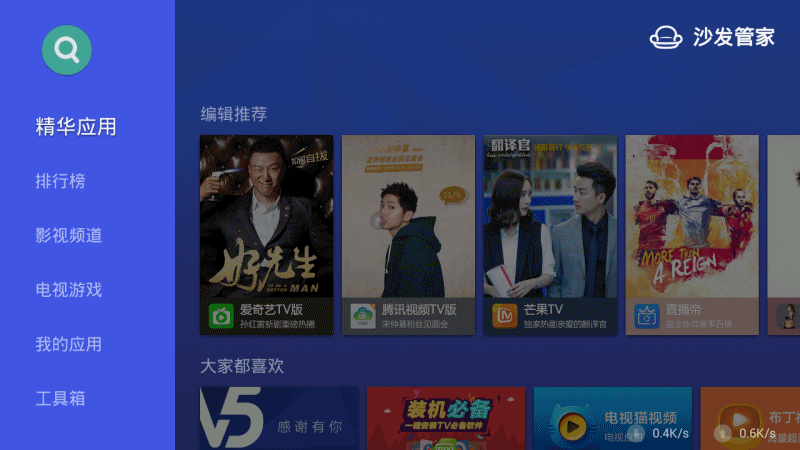 Smart TV/box information can focus on smart TV information network sofa butler (http://), China's influential TV box and smart TV website, providing information, communication, TV boxes, smart TVs, smart TV software, etc. Answering questions.
The waterproof patch cable are easy to install outdoors, partly buried and partly above ground. It is a bit stiff and not easily bendable, but this was not a problem.

Waterproof patch cable include cat5e patch cable, cat6 patch cable, cat6a patch cable, cat7 patch cable.

The wire is very stiff. It is difficulty for bending and plugging it into devices inside the single gang electrical boxes. You had to very carefully arrange everything in the box, and have just a small amount of wire pulled into the box, in order to keep the wire from kinking and risk breaking the conductors.

This wire was used to reduce the need for putting down conduit, and simplify the job. Install was very easy.

Waterproof Ethernet Cable,Waterproof Network Cable,Waterproof Ethernet Cable Cat6,Waterproof Cat6 Ethernet Cable
Shenzhen Kingwire Electronics Co., Ltd. , https://www.kingwires.com