The day before yesterday, we brought us an evaluation of Sony's current flagship TV X9300D. This HDR high-end product left a deep impression on us, especially when comparing the once full HD flagship, due to the HDR technology. The "real light" and rich colors make people unable to stop. It is hard to imagine how dull the quality of ordinary non-HDR TVs has become after HDR became the mainstream in the industry.
Related reading: Sony X9300D evaluation quality part, 4K HDR quality flagship Sony 65X9300D TV Commentary, Sony flagship TV 65X9300D depth evaluation
Because of this, I think it is very necessary to recommend several TV products that support HDR decoding, and not only high-end models, we will recommend different positioning TV products from entry to high-end to meet the needs of different users.
Currently in the sale of TV, Leshi Super 4 X55 should be able to buy support for HDR technology TV is the most price-friendly, the 55-inch version is only 3599 yuan, to buy it means that when HDR becomes mainstream do not have to consider replacing the TV Now.
=====================================
LeTV 4 X55: The Lowest HDR Decoding Harman Speaker
LeTV 4 X55 Leshi 3599 yuan Click to buy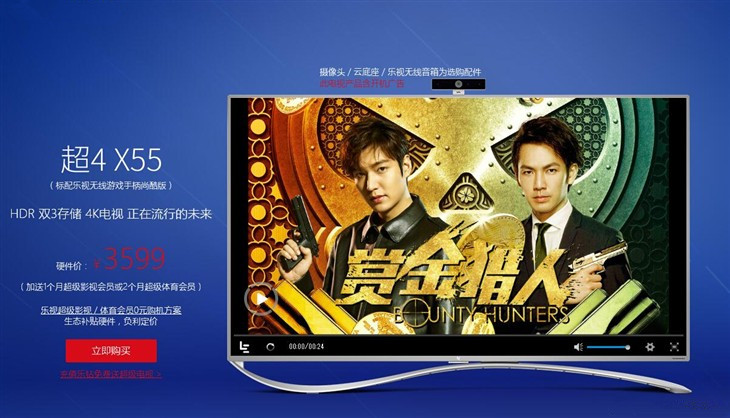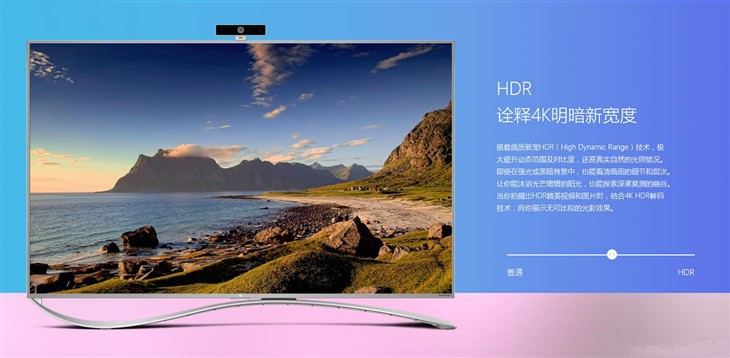 The latest release of the Le Super 4 X55 provides the same super 4 series but superior to the predecessor's performance capabilities, the aircraft SOC Mstar 6A938 provides it with HDR10 video decoding capabilities, which is the most basic conditions to experience HDR charm. In addition, this TV also has WCG wide color gamut technology and the ability to fine-tune the image of the 4K image enamel engine M-Genuine S1-Pro, the latter's independent color, brightness and contrast adjustment capabilities for HDR high dynamic range of expression Technical support.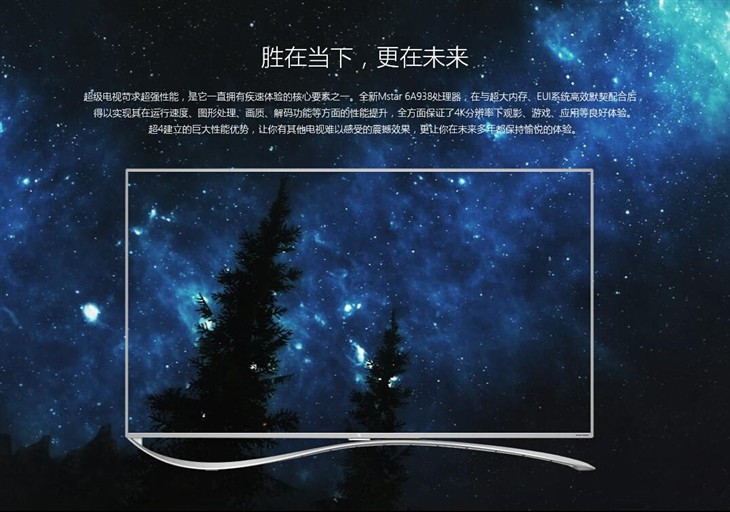 This LeTV Super TV adopts a 55-inch 4K panel, a color gamut greater than 85% NTSC, and a brightness of over 200 nits. In terms of brightness, entry-level positioning may only be able to experience entry-level HDR quality. LeStra 4 X55 Another very eye-catching design is excellent sound, it uses the Harman Caton sound like the split-structure Ultra 4 high-end models, 20 watts of dual passive diaphragm woofer with bass flexibility and Sense of quantity. Of course, if you are pursuing more advanced sound quality enjoyment, you may wish to purchase the package version of the X55. The independent Soundbar plus subwoofer structure has a total power of 110 watts. There are four 2-inch midrange, two 1.25-inch treble, and a 6.5-inch woofer. Absolutely Home audio level configuration.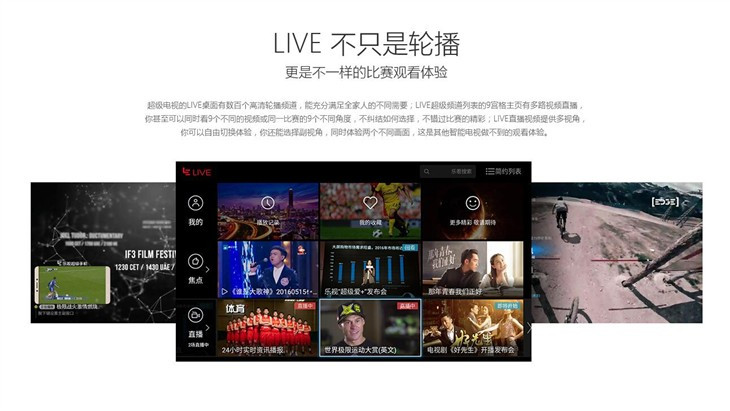 The EUI upgraded with the Super 4 X55 has the ability to play back with 9-way live signal synchronization windows. This is very popular in the current sports events. You can watch games or entertainment at the same time under the EUI interface. They are all live broadcasts. After clicking on a video, it can be zoomed into a full-screen display for easy application. In addition, it must be noted that LeTV's LeTV video platform already has more than 120,000 episodes of TV dramas, more than 6,000 movies, and more than 80,000 episodes of anime content, and it is constantly refreshing numbers. Young people's living room entertainment life will never be bored. .
===============================
Skyworth 60V8E: 4 color 4K brightening panel area control light
Skyworth 60V8E TV Jingdong Mall 5699 yuan Click to buy When the 55-inch is not enough to deal with large-sized living room, Skyworth has just released 60V8E has not yet officially opened to sell may be able to meet your needs, this TV has up to 21 core processor performance Naturally. Because of the latest hardware architecture, Skyworth 60V8E can support hard solutions for 10bit HDR encoded video. Even better, the LGD 4-color 4K panel mounted on the 60V8E enhances the peak brightness output with white pixels and D-BEF brightness enhancement film, which is the key to HDR display. In addition, this TV also supports 0D-Local Dimming area control light technology, the function of automatic adjustment for light and dark images can maximize the peak brightness and backlight ratio of the dark part of the image, thereby increasing the dynamic range.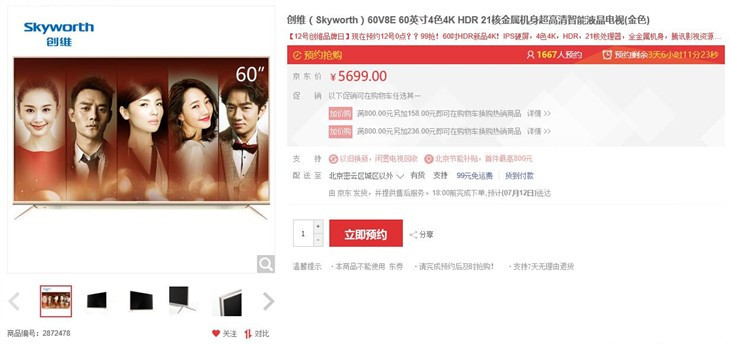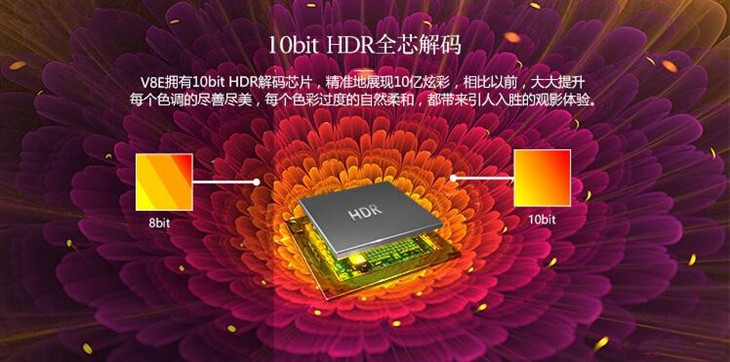 The newly released Skyworth 60V8E uses its latest appearance craftsmanship. CNC processing with anodized champagne gold tone aluminum frame has achieved its metal texture, and the corner diamond cutting has enhanced the visual center of gravity on the plane basis. The appearance of the TV looks more three-dimensional and full.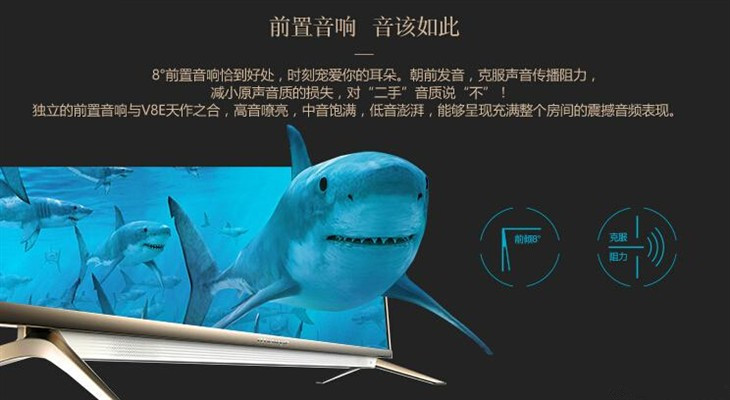 At the sound quality level, the front-end audio system brings more possibilities to the Skyworth V8E series. The sound propagates forward to avoid the loss of sound wave reflection, and the 8-degree design can better reach the "emperor's position". Everything is so direct and natural. . According to the data, this TV also uses an acoustically transparent sound scheme. The resin sound transmission network can further filter noise and noise, making the sound more pure.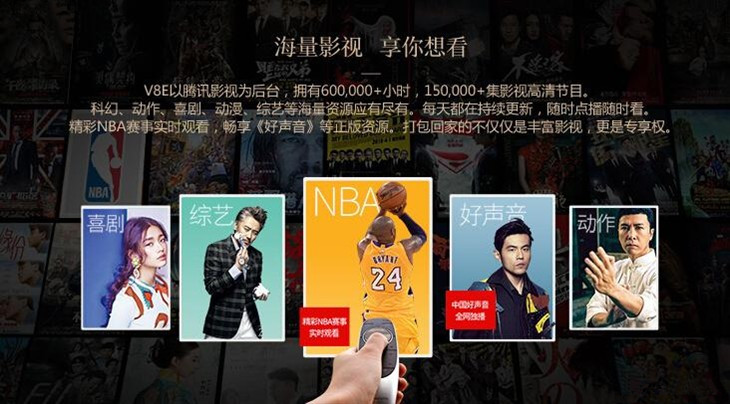 With the Tencent video V8E series has more than 600,000 hours, 150,000 sets of strong video library video works, it provides users with the European Cup, NBA and other international top event grand event, users can watch the latest and classic TV series HBO, in addition to high-definition The latest movies, TV shows, concerts, and entertainment videos will greatly expand the Skyworth 60V8E's big-screen entertainment experience.
====================================
Sony X8000D: Entry-level 4K HDR Wide Color TV New
Sony 49X8000D TV Suning Tesco 5188 yuan Click to buy Although I would like to recommend Sony X9300D series for everyone, but even if the price of 55 inches 14999 is not everyone can easily accept it, do not recommend any more so that the Sony lover HDR TV, they are new products just launched. In the summer shopping boom, Sony has provided cost-effective small 4K HDR models X8000D, X7500D, X7000D, cover 49 to 65 inches, are very mainstream, and can be seen from the figures in the model they are more positioning Close to the people.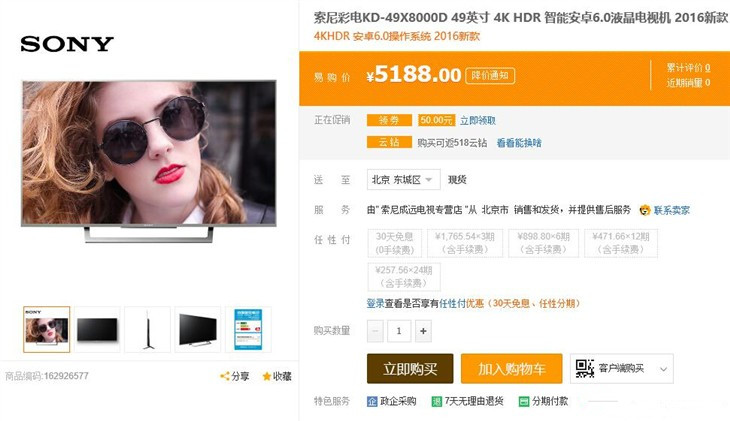 With the X8000D, its design language is closer to the two active products of the X8500/9300D. It is still the "Slice of Living minimalist life" concept. The base adopts a mid-structure, but compared to the "full-size" metal of the X8500/9300D. Brushed panel base, X8000D hollow processing, combined with fine metal frame and other details to see, "X9300D" design is still very clear.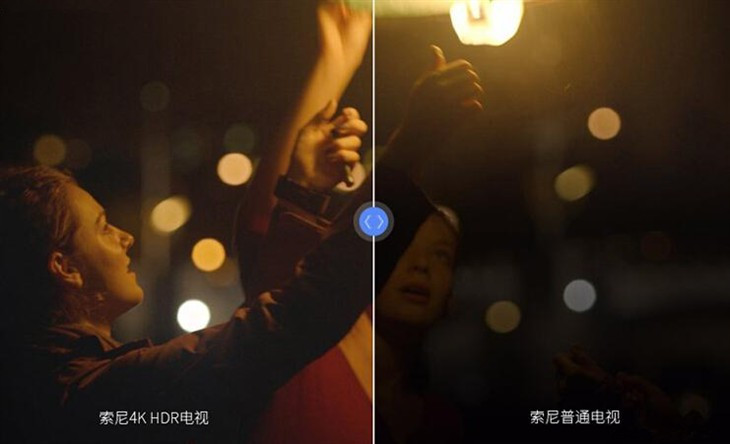 In terms of picture quality, the X8000D has not done a lot of technical reductions. Sony TV's 4K sharp image processing engine can effectively enhance the definition of the picture and control the noise. This TV is also equipped with the Terri Colori Color Gamut technology. The high dynamic lighting range that HDR TV plays and the characteristics of the wide-area color space are all expressed. Unfortunately, the X8000D doesn't have MotionFlow XR dynamic compensation. Fans and gamers may be more distressed. However, when you know that the 49-inch X8000D (currently the largest size listed in the series) is only 5,188 yuan, the opportunity to experience the charm of Sony 4K HDR technology at a low price depends on it.
=============================
TCL QUHD TV C2-CUDG: 110% Color Gamut HDR Support
TCL L550C2-CUDG 11000å…ƒClick to buy
TCL is another major push brand for Quantum Dot Camp. At the just-concluded Spring New Product Launch Conference, TCL brought a new flagship product line of its new QUHD TV Quantum Dots series, including X1, C1, and C2. At present, we can preemptively purchase the model is the C2-CUDG series, which is the TCL QUHD TV camp after X1 high-definition television, in terms of picture quality, C2-CUDG uphold the essence of QUHD TV, color gamut coverage The same as up to 110% NTSC, allowing users to see the true color never seen before on TV, more than 10% higher than OLED, far beyond the level of 72% of ordinary LED.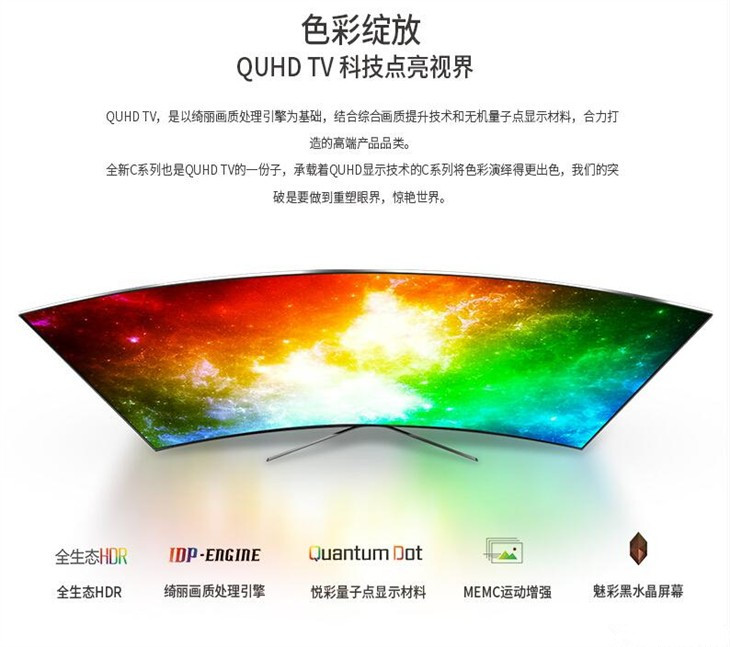 TCL C2-CUDG Technical Features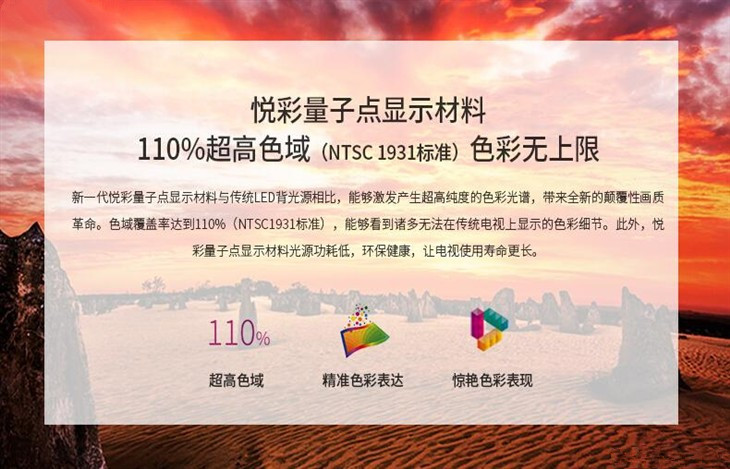 110% color gamut coverage is already the top level in the industry
For light control capability, TCL C2-CUDG has patented technologies such as high-brightness fine control and hybrid dimming and multiple backlight optimization. Through dynamic analysis of the brightness of the display signal, the C2-CUDG can accurately control the backlight output for each frame of the picture. The unprecedented level of light and shadow. At the same time, C2-CUDG's complete ecological HDR technology has achieved a complete solution for content, hardware, and software to fully meet the HDR standard. His deep cooperation with Hollywood's global broadcast platform will update a large number of HDR video resources for non-HDR content, TCL S2H technology SDR content can be converted to HDR content through algorithms to enhance HDD television viewing.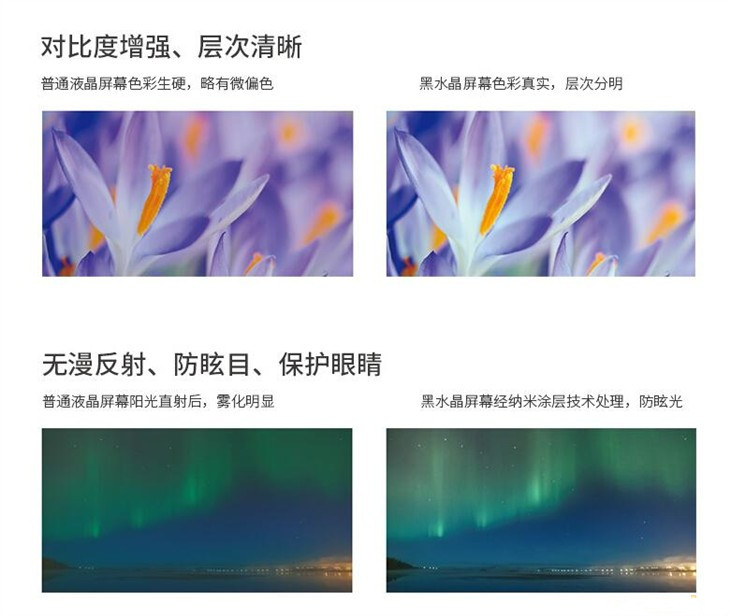 Black Crystal Panel Advantage
In addition, this TCL high-end new TV adopts a black crystal screen, which reduces the diffuse reflection and scattering of ambient light through nanotechnology processing, thus making the picture more profound and pure.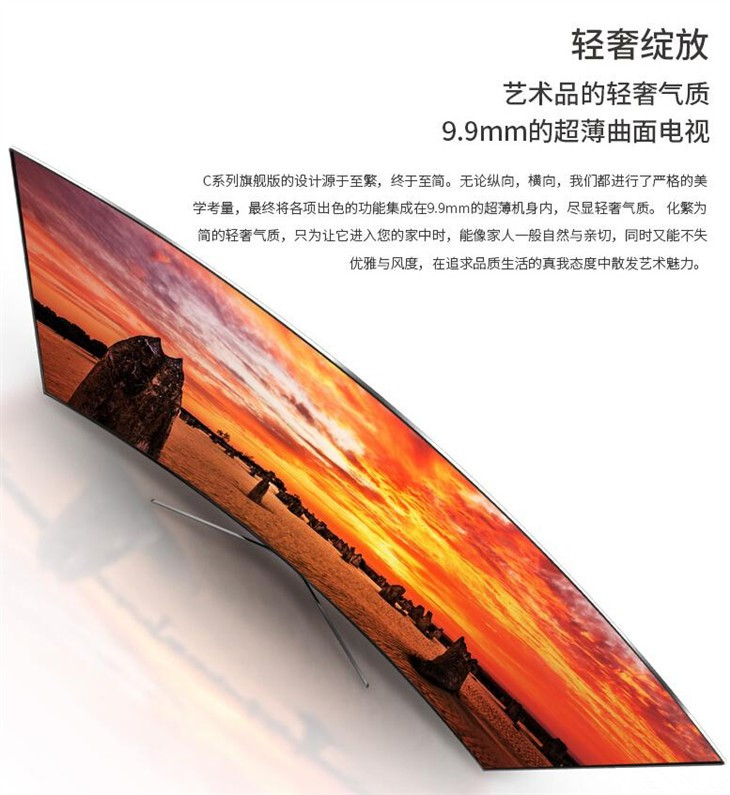 Appearance ID design, TCL C2-CUDG has a slim slim body of 9.9mm, the back plate is made of integrated all-metal material, with long polished mirror base and surface modeling, million-level set C2-CUDG Do not worry about the identity of TCL high-end boutique TV.
==========================================
Samsung SUHD KS9800: Quantum Dots Wide Color Region 1000 nits Brightness
Samsung UA55KS9800JXXZ 18999 yuanClick to buy
UA55KS9800JXXZ is Samsung's second generation SUHD quantum dot flagship surface TV new machine this year, its main quality is the wide color gamut and HDR technology, 1000 nits called it HDR TV is not the most exaggerated. The TV uses environmentally friendly mercury-free quantum dot technology as a backlight, so the color can significantly break through the LED TV. According to Samsung's official website, SUHD TV's color is 64 times that of Samsung's ordinary TV, but this model has not been marked with excellent domain values. With reference to other QD TVs we have come across, the color gamut may reach 100% NTSC.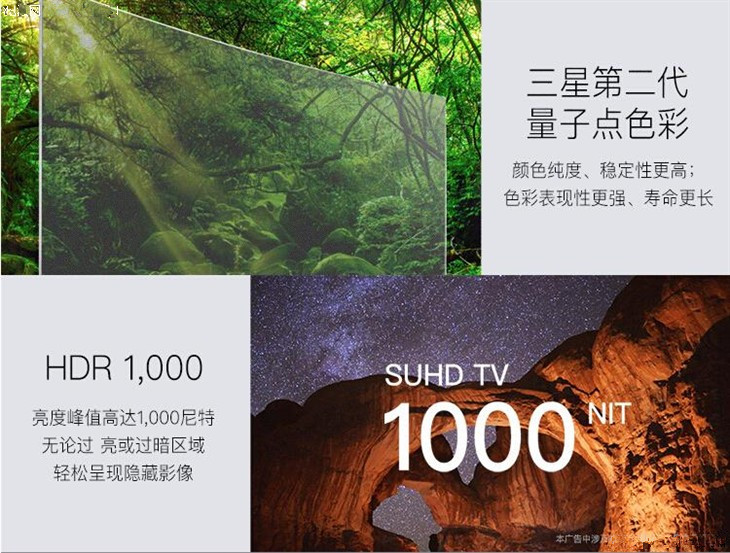 1000 nits brightness is challenging for LCD TVs

10bit panel color levels will be unprecedentedly improved
On the other hand, this curved TV really did not make much effort to optimize the backlight, and its dark-black anti-reflection panel, local control light, fine control black, and superior high-light control technology were all born for backlight optimization and HDR technology. . It is reported that the peak brightness of this TV reaches the ultra-high specification of 1000 nits required for HDR. In the shadow control, the Samsung KS9800 with local area light control technology can finely adjust the backlight output of a certain area of ​​the display panel, so the high brightness can be maintained. At the same time let the dark part deep and do not lose details.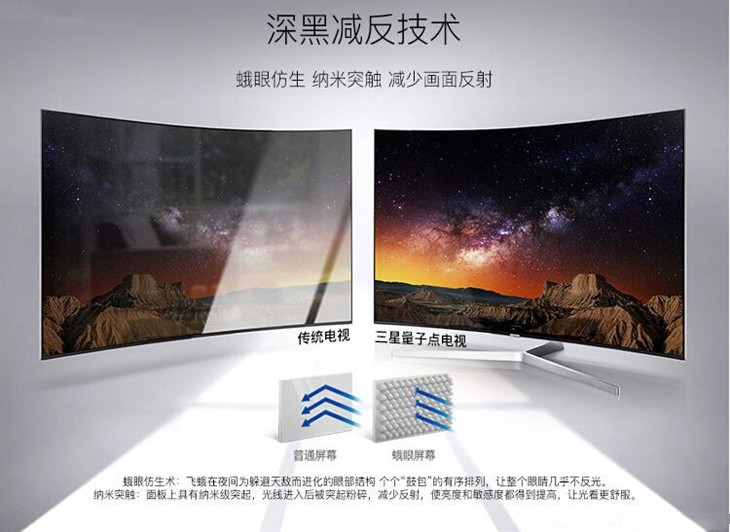 The KS9800 chose a dark-black anti-reflection panel of nano-materials for purer blacks. This technology allows the TV to brighten the ambient light and eliminate glare and reflected light at different viewing angles, allowing low-brightness images. It can be purely interference-free.
Samsung KS9800 minimalist shape can be described as hard work, this TV back as if the overall integration of design, streamlined backplane texture is exquisite and delicate, as the Korean flagship model, Samsung KS9800 will not let anyone in the design Disappointed.
There are good hardware and display effects, of course, with a rich content resources, the combination of software and hardware can play the greatest value of a TV. In terms of content, it is recommended to install a sofa butler - the sofa butler is a third-party app store designed specifically for smart TVs, Android box users, carefully providing television, box users with high-quality television exclusive version of the application, including with live Or on-demand video and audio and video software, various types of recreational competitive video game software and daily office entertainment management system management tools. click to download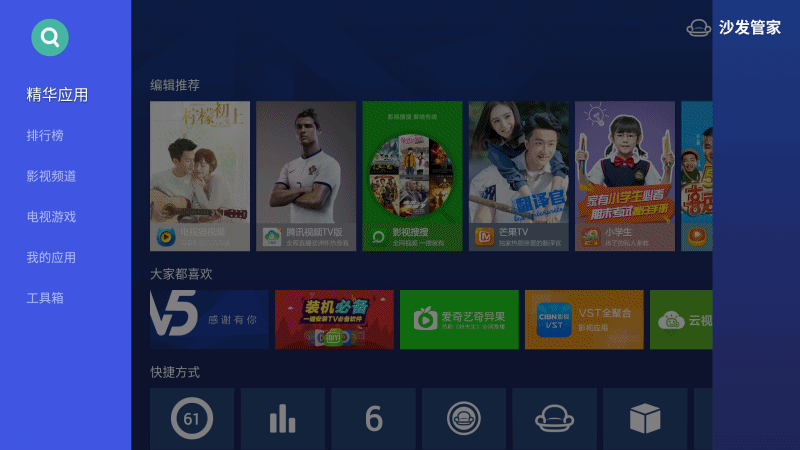 Isolator Coaxial,Coaxial Isolator,Microwave Isolator,Drop In Isolator
Chengdu Zysen Technology Co., Ltd. , https://www.zysenmw.com