[Text|High-tech LED Industry Research Institute (GLII)]
Compared with traditional lighting products, LED lighting products have obvious advantages in energy saving. In recent years, the price of LED lighting products has continued to decline rapidly, the quality of products has been continuously improved, the price of LED lighting products has been significantly improved, and market demand has continued to grow rapidly. According to statistics from the High-tech LED Industry Research Institute (GLII), the global LED lighting output value reached 340.8 billion yuan in 2014, a year-on-year increase of 38%.
Chart 1: Global LED lighting output value in 2010-2017 (unit: 100 million yuan, %)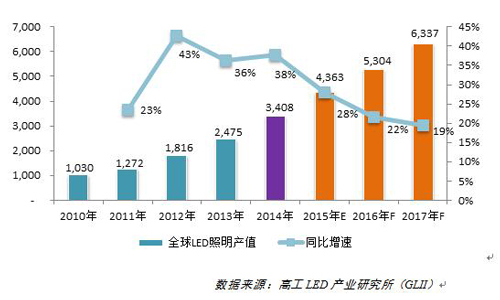 Source: Gaogong LED Industry Research Institute (GLII)
Benefiting from the policy promotion support of various countries and regions around the world, as well as the overall cost performance of LED lighting products, Gaogong LED Industry Research Institute believes that the scale of global LED lighting products will maintain a relatively rapid growth in the next two or three years. GLII expects that by 2017, the global LED lighting output value will exceed 600 billion yuan, and the compound growth rate is expected to reach 23% in the next three years.
In terms of the global LED lighting competition pattern, international lighting manufacturers such as Philips and Osram have benefited from many advantages such as brand, technology, channel and scale, and have been in the leading position in the industry. In recent years, with the continuous improvement of LED lighting penetration rate, the demand for traditional lighting market has been shrinking. International lighting manufacturers continue to intensify efforts to develop LED lighting business, and their LED lighting business revenue ratio is also rapidly increasing.
According to statistics from the High-Tech LED Industry Research Institute (GLII), in 2013, Philips LED lighting revenue reached 24.2 billion yuan, and LED lighting revenue accounted for 34.6% of the total revenue of the lighting business, making it the world's largest LED lighting giant. According to Philips Financial Report, in the third quarter of 2014, Philips LED lighting accounted for 40% of total lighting revenue. Philips LED lighting business can reach 30 billion yuan. In terms of OSRAM, LED lighting revenue in 2013 was 12.7 billion yuan, accounting for 29% of revenue, making it the second largest LED lighting industry in the world. In 2014, Osram's LED lighting revenue ratio has increased to more than 40%. GLII research shows that in 2015, the international lighting manufacturers such as Philips and Osram are aiming to increase the proportion of LED lighting business to over 60%.
Relatively speaking, the scale of LED lighting business of domestic lighting manufacturers is still relatively small, and the gap with international big manufacturers is very different. According to GLII statistics, in 2013, the largest LED lighting revenue in China's lighting industry was only more than 1 billion yuan. In 2014, the largest scale was only about 2 billion yuan.

Yuhai Company is engaged to research and development of piezoelectric products and related piezoelectric products, the related piezoelectric products includes the piezo sensors and transducer.
The Ultrasonic Transducer is a kind of transducer that converts the ultrasonic signal into electric signal, or vice versa. Ultrasound transmitter and receiver is a transducer that can transmit and receive ultrasound. Ultrasound sensor is a kind of sensor, in essence, it is also a transmitter and receiver. The working principle of this kind of equipment is similar to that of radar and sonar. Active ultrasonic sensors can emit and receive reflected waves, and determine the distance of the target by measuring the time interval between transmission and reception. Passive Ultrasonic Sensor is actually a microphone that can convert ultrasonic signal into electrical signal.

According to the working principle and materials used, the ultrasonic transducer has Piezoelectric Transducer, electrostatic transducer (capacitive transducer), magnetostrictive transducer, electromagnetic acoustic transducer, mechanical transducer and other types [1].

Ultrasonic Sensor
Ultrasonic Sensor,Piezo Sensor,Ultrasonic Piezo Disc,Ultrasonic Piezo Elements
Zibo Yuhai Electronic Ceramic Co., Ltd. , https://www.yhpiezo.com