TI's S125BR800A is an 8-channel signal conditioner that drives the SAS-3 protocol, supports new SCSI standards with fast data rates up to 12.5Gbps, and is compatible with current 3Gbps and 6Gbps SAS link rates. The device is primarily used in repeaters for enterprise servers, storage devices, and routing systems.
At the same time, the DS125BR800A supports PCIe Gen-1, Gen-2, Gen-3 and SATA 1.5-Gbps, 3-Gbps and 6-Gbps interface standards, with high signal conditioning performance, low power consumption and system cost. A variety of configuration options are convenient to use.
The DS125BR800A is an ultra-low power, high performance, multi-protocol transponder/re-driver that supports eight channels of PCIe, SAS and other high speed interface serial protocols (up to 12.5Gbps). The receiver's Duration Linear Equalizer (CTLE) provides up to +30 dB boost (6.25 GHz, 12.5 Gbps) in 8 channels and is capable of opening an input eye (inter-symbol interference and blocking (ISI) The input eye is caused by interconnecting media, such as 30-inch + backplane traceback, or 8 m + copper cable, so that the main controller can ensure an error-free end-to-end connection. When the DS125BR800A causes most channel loss on the input side of the device, its strong linear equalization maximizes the expansion of the interconnect channel. Adjustable transmission de-emphasis and output voltage amplitude help compensate for residual channel attenuation on the output side.
When the DS125BR800A is in SAS-3 and PCIe-3 band mode, the DS125BR800A allows the host controller and endpoint to optimize the full link and successfully manage the transmit equalizer coefficients. Seamless management of this link training protocol ensures system level interoperability (with less latency). With low power consumption (65mW/Channel, typical) and the ability to turn off unused channels, the DS125BR800A generates an energy efficient system. The DS125BR800A operates from a single 3.3 V or 2.5V supply.
Its programmable settings can be easily implemented via pins, software (SMBus or I2C), or via external EEPROM loading. When operating in EEPROM mode, configuration information is automatically loaded on power-up, which eliminates the need for an external microprocessor or software driver.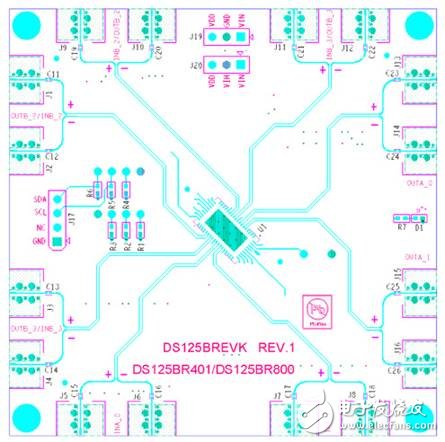 Figure 1 Evaluation board DS125BR800AEVMPCB component layout (top layer)
DS125BR800A main features
• Proven system interoperability
• Comprehensive multi-protocol repeater series
• Low 65mW/Channel (typ) power consumption
• Can be used to power off unused channels
• Transparent management of links
• PCIe and SAS protocols
• Advanced signal conditioning
• RX CTLE up to 30dB (SAS3, 24 dB)
• Launch de-emphasis up to -12dB
• Tx output voltage control: 700 mV~1300 mV
• Device configuration interface
- Pin selection, EEPROM or SMBus interface
• Single supply voltage: 2.5V or 3.3V
• -40°C~85°C operating temperature range
• 3kV HBM ESD level
• Flow straight-through pin: 54-pin LLP (10mm & TImes; 5.5mm, 0.5mm pitch)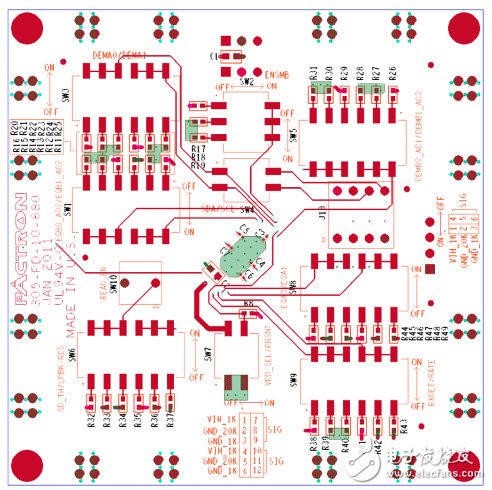 Figure 2 Evaluation board DS125BR800AEVMPCB component layout (bottom layer)
• Supported agreements
- SAS/SATA
- PCIe
- Other proprietary interfaces up to 12.5Gbps
Evaluation Board DS125BR800AEVM
DS125BR800AEVM: 12.5Gbps, 8-channel transponder with input CTLE and output de-emphasis evaluation module. The DS125BR800AEVM SMA Evaluation Kit provides a complete, high-bandwidth platform to evaluate the signal integrity and signal conditioning characteristics of Texas Instruments products (using equalization and de-emphasis). The SMA edge transmit connector is used as the connection for the evaluation board input and output.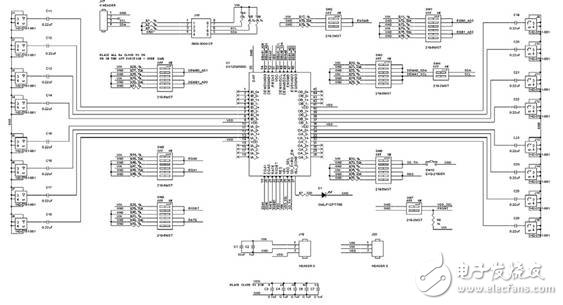 Figure 3 Evaluation board DS125BR800AEVM circuit diagram
Evaluation board main features
• 8-channel repeater, up to 12.5Gbps
• Low 65mW/channel power consumption, unused channels can be powered down
• Link transparent management protocol, supporting PCIe, SAS, 10G-KR
• 12.5Gbps receive equalization, up to 30dB
• Can be set to send de-emphasis drive to -12dB
• Transmit output voltage control: 700mV~1300mV
• Through programmable pin selection, EEPROM or SMBus interface
• Single supply: VIN=3.3V±10% or VDD=2.5V±5%
• -40°C~+85°C operating temperature
• 5kV HBM ESD rating
• High-speed signal flow straight-through pin package: 54-pin WQFN (10mm & TImes; 5.5mm, 0.5mm pitch)
Network Cables, Category: CAT5E ,CAT6,CAT7,UTP and STP network.Our network Environmental certification.The length can be customized .Welcome to our Company inquiry order.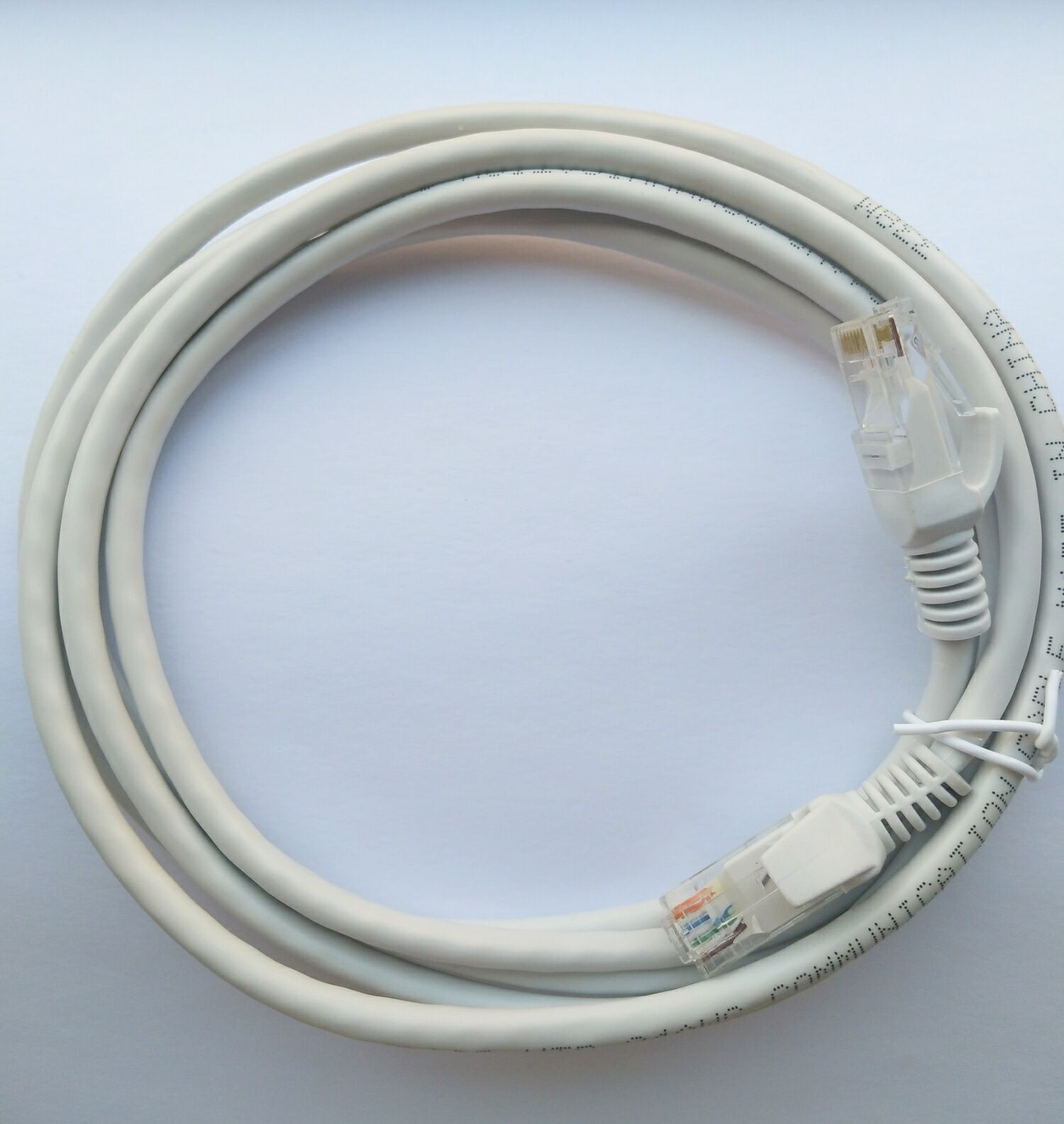 Rj45 Network Cable,Networking Cable,Cat6 Utp Cable,Long Ethernet Cable
Dongguan Fangbei Electronic Co.,Ltd , https://www.connectorfb.com