The State Council officially issued the "Industrial Transformation and Upgrade Plan (2011-2015)" (hereinafter referred to as "Planning"). "Planning" proposes that by 2015, China's electronic information manufacturing industry above the average annual growth rate of sales remained at about 10%, more than 10 trillion yuan in 2015; the average annual increase in industrial added value of more than 12%; electronic information manufacturing industry In the strategic emerging areas, the sales revenue increased by 25% annually.

General Idea: Innovation Leads Fusion Development The "Plan" clearly stated that we must adhere to innovation and lead, integrate development, and strive to enhance the core competitiveness of the industry. In order to meet this requirement, the electronic information manufacturing industry has established the guiding ideology of transforming and upgrading as the main line and persisting in innovation, application, and development.

--- Lead by innovation. We will vigorously promote integrated innovation, continuously improve the industrial innovation system with enterprises as the main body, and improve the efficiency of industrialization of achievements; we will focus on major national science and technology projects and major projects, increase investment in R&D, and strive to overcome a number of core key technologies.

--- Application-driven as a key support. Strengthen the popularization and application of information technology, transform and upgrade traditional industries; focus on the development of industrial control, automotive electronics, financial electronics and other products with a wide range of products with a wide range of applications, and create a new growth point for the industry; accelerate the cultivation of strategic emerging areas and form a batch of Rapidly drive key applications for industrial growth.

———The development of fusion is an important approach. Promote the integration of product manufacturing and software and information services, integration of manufacturing and operations, encourage and guide the innovation of business models, guide and accelerate the process of vertical integration in the industry chain, promote the interoperability of military and civilian technologies, and accelerate the integration of military and civilian development.

Main goal: Optimize the structure and continue to innovate In order to implement the "planning" general requirements of "enhance the core competitiveness of electronic information manufacturing industry" to ensure the smooth realization of the "plan" goals, as a national economy strategic, basic and leading industries In the "Eleventh Five-Year Plan" period, the electronic information manufacturing industry strives to achieve the following goals:

———The optimization and upgrading of industrial structure. The average annual growth rate of sales revenue of electronics and information manufacturing industries above designated size in China is maintained at around 10%, exceeding 10 trillion yuan in 2015; the average annual growth rate of industrial added value exceeds 12%; sales revenue in strategic emerging areas in electronic information manufacturing industry Both increased by 25%. Form 5 to 8 large-scale backbone enterprises with sales revenues exceeding 100 billion yuan, and cultivate large enterprises with sales revenue exceeding 500 billion yuan. Create a number of new industrial demonstration bases and industrial parks with international influence.

———Industrial innovation and development. The top 100 companies' R&D investment accounted for more than 5% of sales revenue, the cumulative total of invention patent applications in the information technology sector reached 1.3 million, the integrated circuit products met the domestic market demand by nearly 30%, and the chip manufacturing scale production technology reached 12 inches, 32 /28 nanotechnology; flat panel TV panel self-sufficiency rate of more than 80%.

———Sustainable development. Significantly increase the energy efficiency of computer and television products; energy consumption in the production process is further reduced; the average integrated power consumption of solar grade polysilicon production is lower than 120 kWh/kg; the use of toxic and hazardous substances is effectively controlled; waste electrical and electronic products are recycled and reprocessed The utilization rate has increased significantly.

Main tasks: Forming a complete foundation The electronic industry system "Planning" proposes that during the "Twelfth Five-Year Plan" period, the electronic information manufacturing industry should form a basic electronic industry system with optimized structure and supporting integrity, enhance the entire product value chain, and strengthen the application of information technology. Promote the deep integration of the two.

(A) The basic task of the basic electronics industry to jump over basic electronics is to form a basic electronic industry system with optimized structure and supporting integrity to achieve a leap in the industry.

In the field of integrated circuits: Breakthroughs in high-end general-purpose chips such as high-performance CPUs, mobile communications chips, and DSPs, and mobile phones, digital-analog hybrids, information security, digital televisions, radio frequency identification chips, and large-area chips, as well as special chips for key areas. Continued support for the construction of a 12-inch advanced process manufacturing line and retrofitting of 8-inch/6-inch process lines. Strengthen the independent development and supply of key equipment, instruments and materials for 8-inch to 12-inch integrated circuit production lines, speed up the upgrading of national integrated circuit R&D public service platform levels and capabilities, and organize various forms of technological innovation platforms.

Key electronic components and materials: Focus on microelectronic devices, optoelectronic devices, MEMS devices, semiconductor power devices, power electronic devices, RFID modules and devices, green batteries, chip resistance, electromechanical components, electroacoustic devices, and intelligence Sensors, printed circuit board product technology upgrades and equipment process development, effectively supporting the development of the Internet of Things. Actively develop semiconductor materials, solar photovoltaic materials, optoelectronic materials, magnetic materials, battery materials, and sensor materials.

The new flat panel display field: Focus on supporting key technology and process development for TFT-LCD display panels with a size greater than 6 generations, and implementation of key supporting materials such as glass substrates and core production equipment industrialization projects. Breakthrough PDP high-efficiency technology, high-definition technology and ultra-thin technology to improve PDP product performance. Develop high-mobility TFT drive substrate technology, focusing on the development of small-size display products with touch screen functions, wide viewing angles, high resolution, and thin and energy-saving.

The field of light emitting diodes (LEDs): Focus on breakthroughs in epitaxial growth and key technologies for chip manufacturing to improve the domestic supply capability of epitaxial wafers and high-end chips. To enhance the packaging capability of power LED devices, accelerate the mass production of home-made MOCVD devices, and promote the R&D and industrialization of substrate materials, high-purity MO sources, high-performance epoxy resins, and high-efficiency phosphors.

Solar photovoltaic industry: To support the polysilicon industry, energy saving and high-quality, high-efficiency, low-cost industrialization of solar cells, and encourage the development of new types of solar cells and high-quality low-cost polysilicon process technology. Breakthrough bottleneck of flat-plate PECVD, automatic screen printing machine and other equipment. Support diversified and wide-area solar photovoltaic applications, expand the off-grid application market and the emerging on-grid market.

(2) The main task of the whole product value chain to enhance the whole product is to enhance the value chain, including product innovation, model innovation and brand building.

Product innovation: support for the innovation of computer and network equipment, communication equipment and intelligent terminals based on mobile Internet services, and product innovation, technology innovation and model innovation based on cloud computing; support for networked, intelligent, energy-efficient digital TV products and 3D television research and development and industrialization, to promote the next generation of terrestrial digital television transmission system key technologies and system technology research.

Pattern innovation: Grasping opportunities for rapid development of emerging applications such as cloud computing and mobile Internet, developing value-added services, and innovating business models; improving the industrial public service system, and promoting the construction of open operation platforms, content service platforms, and network service platforms.

Brand building: support for digital audio-visual, computer and communications equipment manufacturing companies to build their own brands, improve the international competitiveness of domestic equipment and terminals; encourage enterprises to strengthen international strategic cooperation and speed up the construction of safe and controllable market channels.

(III) Strengthen the application of information technology, promote the deep integration of the two industries, vigorously develop applied electronic products, break through key technologies, and form new growth points. Breakthrough technologies such as CNC fieldbus, communication protocols, and high-speed servo drives accelerate the development of vehicle-mounted networks, power batteries, management and control systems, powertrain control systems, and automotive chips. Breakthroughs in the development of digital medical imaging diagnostic systems, and the development and application of new devices such as insulated gate bipolar transistors (IGBTs). Efforts were made to develop air traffic control systems, airborne electronic equipment and related computer-aided design and application systems. Support information technology enterprises and traditional industrial enterprises to carry out multi-level cooperation to improve the level of industrial automation and intelligence. Increase the use of information technology in all aspects of agriculture to increase agricultural production efficiency. Strengthen the application of information technology in transportation, health care, culture and education, and promote the development of electronic information products and related services.

Safeguards: Perfecting the policy system and increasing capital investment To ensure the implementation of the goals and tasks of the "Strengthening the Core Competitiveness of the Electronic Information Industry" in the "Planning", it is necessary to adopt policies and regulations, financial input, industrial layout, and industrial organization. Relevant policies and measures have been introduced and implemented in terms of intellectual property rights, standards, and personnel team building.

(I) Improve industrial policies and regulations, improve the environment for industrial development, and expedite the issuance of the "Circular of the State Council on Printing and Distributing Certain Policies to Further Encourage the Development of the Software Industry and the Integrated Circuit Industry" (Guofa [2011] No. 4) to be implemented. Polysilicon Industry Access Conditions and Regulations on the Management of Waste Electrical and Electronic Products Recycling. Continue to do a good job in home appliances to the countryside, build and improve after-sales service system for household appliances. Actively promote LED, OLED energy-saving lighting products.

(II) Improve the efficiency of the use of fiscal funds, enhance industrial innovation capabilities, accelerate the implementation of "core electronic devices, high-end general-purpose chips and basic software products," "very large-scale integrated circuit manufacturing equipment and complete sets of processes," and "a new generation of broadband wireless mobile communications networks." "And other major national science and technology projects, strengthen the industrial chain support. We will make full use of special funds such as the Electronic Information Industry Development Fund to promote the demonstration and application of key products. We will increase financial support for the application of information technology, implement strategic emerging industry special funds, and national financial policies for supporting SMEs.

(3) Guide the orderly transfer of industries, promote regional coordinated development, strengthen the connection between planning, resources, and markets, study and formulate relevant policies for the transfer and cooperation of electronic information manufacturing industry, and establish and improve the cooperation mechanism of "provincial cooperation and coordination." Promote the Pearl River Delta, Yangtze River Delta, Bohai Rim and Fusha coastal areas to the high-end extension of R&D, design, and service industry value chain, and take advantage of the role of radiation in leading regions; and coordinate the major projects in the middle and western regions and the northeastern old industrial bases. Layout, promote the construction of new industrial industrial demonstration bases and industrial parks.

(4) Promoting corporate mergers and reorganizations, optimizing the structure of industrial organizations, improving the policy system of mergers and acquisitions, and actively promoting significant progress in mergers and acquisitions. The establishment of an industrial investment fund focuses on the layout of major productive forces and encourages leading companies to carry out overseas mergers and acquisitions and technology acquisitions. Establish and improve the service system for small and medium-sized enterprises, and train a group of small and medium-sized enterprises that are "specialized, refined, special, and new". Supports the development of industry alliances such as AVS, IGRS, digital home, solar photovoltaic, OLED, and semiconductor lighting/LED.

(V) Implement strategies and standard strategies for intellectual property rights to enhance industrial competitiveness. Fully implement the Outline of the National Intellectual Property Strategy and enhance industrial competitive advantages. Build and improve the public service platform for intellectual property in the field of electronic information, establish an early warning mechanism for intellectual property rights in the electronic information industry, timely release relevant reports on intellectual property rights, and improve the ability of industrial intellectual property for early warning. Strengthen the establishment of standardization technology organizations in the field of electronic information and raise the level of standardization work. For the development of a new generation of information technology industry, accelerate the research and development of corresponding technical standards.

(VI) Strengthen the introduction and cultivation of innovative talents, speed up the construction of professionals, formulate medium and long-term construction plans for electronic information manufacturing talents, speed up the construction and development of vocational training institutions, focus on cultivating high-level composite talents, and establish corresponding high-end talents Introduce mechanisms.
Technical Parameters
Multi language: English/Spanish/Russia/Inter.char.set-..
1)High Brightness, user can change the advertising words whatever you want, easy and convenient in operation, more attactive compared with traditional banner.
2) The led moving sign display supports many kinds of languages and characters.
3) A lot of lively animation icons are built-in. 50 and more action effects for user option; Different brightness can be adjusted in software.
4) Time clock format, support date, countdown and any other odditional functions like temperature and humidity. Voltage input: 220v or110v.
5) led moving sign display Structure: well appreance frame, professional pendents, standard connectors and other accessories.
Usage
Service propaganda in finances, post offices, telecom, commerce, hospitals, sports stadiums
Policies and decrees issued from government organizations
Instructions, guidance and information issuance in airports and railways
Technical features
1. Preeminent effects: Clear and stable pictures without distortion and disturbance.
2. High quality: adopting first-class chips and wafers imported from abroad
3. Flexible form: continuity, overlying, combination of dynamic and static playing, various effects include rolling moving, typewriting, gradual changing and so on
4. off-line running function: adopting the monolithic design technology and computer string communication way, which can operate in off-line state setting the dates and revising a data via the telephone line
Our service
1.Your inquiry related to our products or price will be replied in 24hrs
2.OEM&ODM,any your customized lightings we can help you to design and put into product
3.Protection of your sales area,ideas of design and all your private information
4.Top Quality+Reasonable Price+Responsible After Service=Successful & Win
5.Produce all kinds of Pitch: P4.75, P7.62, P10, P12, P16, P20, P25, P31.25...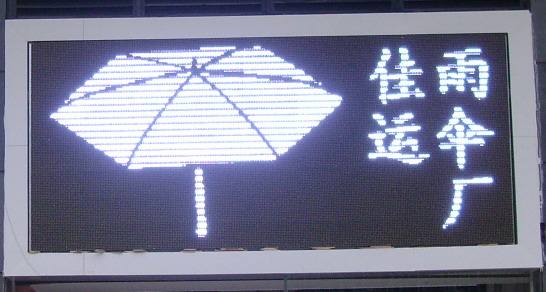 Outdoor Single Color LED Display
Outdoor Single Color Led Display,Led Display Board,Outdoor Led Display Screen,Single Color Led Moving Display
Shenzhen Joy LED Display Co., Ltd. , https://www.joe-led.com