21ic News NEXCOM's latest VTC 7110 series vehicle terminals, including VTC 7110-B, VTC 7110-D1, and VTC 7110-C4, are designed to ensure that all mobile users are "always connected". Based on the 2nd generation Intel® CoreTM i7 2610UE processor, the VTC 7110 series offers a variety of more advanced features and is the perfect choice for automotive applications. Unparalleled computing performance and superior graphics performance make the platform suitable for most automotive environments. Flexible I/O expansion, the series is widely used in heavy-duty vehicles and mobile video surveillance. The VTC 7110 vehicle terminal series combines computing performance, seamless mobility, remote management, flexible expansion and superb product reliability.
This article refers to the address: http://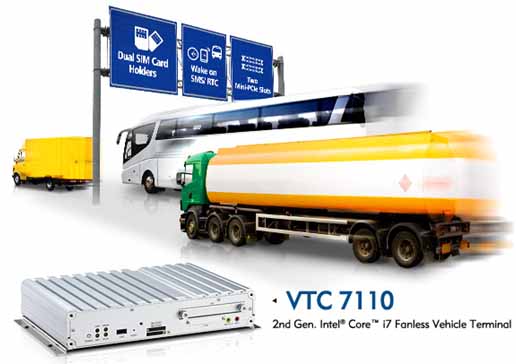 The VTC 7110 series is a high-performance in-vehicle terminal based on the 2nd generation Intel® CoreTM i7 2610UE 1.5GHz processor from NEXCOM. The optional features relative to most in-vehicle terminals are also included in the VTC 7110 standard. Supports dual SIM card slots, SMS/RTC wake-up and 2 mini-PCIe slots for maximum mobility. This series allows users to install 3.5G and Wi-Fi modules or two 3.5G modules. The VTC 7110-B is configured with an external SATA HDD and Cfast slot as a fast storage unit replacement and two LAN ports as a network connection backup.


In addition, the VTC 7110-D1 has 8 inputs and 8 output channels, 16 GPIO channels. Supports isolated RS-232 and RS-422/485 interfaces, CAN bus protocol SAE J1939/1708. Particularly suitable for fleet management, the VTC 7110-D1 eliminates a variety of problems caused by surge voltage/current, establishes a reliable in-vehicle communication network, and facilitates on-board subsystem monitoring.
The other variant, the VTC 7110-C4, supports four Power over Ethernet, combined with signal transmission and power, and the on-board terminal reduces cabling and simplifies system deployment. Ethernet-based devices support the 802.3af protocol, such as high-resolution IP cameras, and can be directly connected to the VTC 7110-C4, requiring only one Ethernet cable. The VTC 7110-C4's two hot-swappable SSDs are available as data disks and Cfast system disks, making them the best choice for mobile video surveillance.
Key Features • 2nd Generation Intel® CoreTM i7 2610UE 1.5GHz processor • 2 Ethernet LAN ports • Optional SAE J1939 or J1708 port • Optional 4-way PoE
• Optional isolated digital input and output • Movable 2.5" SSD
• 9~36V wide voltage DC power input • Intelligent power engine function, delay and low voltage protection • Robust fanless design, MIL-810F seismic standard
When the grid is cut off, the three-phase dump load of the Controller will automatically start to work and the Inverter will stop output to grid. When the grid resuming, the controller stops three-phase dump load and the inverter will resume power supply.
The inside of the controller is equipped with surge protector. Contain the over voltage into the Wind Turbine under the bearable voltage of the equipment or system. On another way, to conduct the strong lightening current into the earth directly to avoid any damage of equipment.
On-grid Wind Solar Hybrid Controller
On-Grid Wind Solar Hybrid Controller,Automatic Controller,Solar Panel Street Light Controller,On-Grid Hybrid Controller
Delight Eco Energy Supplies Co., Ltd. , https://www.cndelight.com