The car dashboard is composed of various instruments, indicators, and special warning lights and alarms for drivers. Traditionally used mechanical speedometers, fuel gauges and odometers, but now stepper motors and dashboards using LCDs are the mainstream. Recently, medium and high-end vehicle dashboards have been displayed with large-screen LCDs for vehicle diagnostic information and safety information. Figure 1 shows the various classification dashboards.
This article refers to the address: http://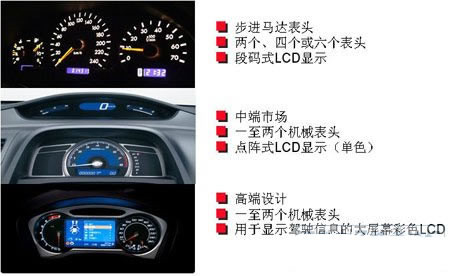 Figure 1 Types of dashboards on the market
Renesas has been involved in automotive semiconductors for more than 25 years. Renesas supplies automotive semiconductors to the world's major automotive electronics companies, including Bosch, Continental, Delphi, TRW, Aisin and Denso. The products of these automotive electronics manufacturers are used by the world's car manufacturers. In the field of dashboards, Renesas offers PCs for dashboards that implement a variety of functions, as well as platforms for user development and demonstration software for verification functions. The platform is accompanied by a circuit diagram and basic software.
The basic function dashboard is for H8S/2280 and H8S/2282 with 16-bit microcomputers. It has many functions, such as from sensors, A/D converters that receive analog signals, PWM timers that control stepper motors, LCD drivers, especially the output of warning lights and alarms, LED PWM dimming, and more. Thanks to the ability to drive direct, stepper motors and LCDs, low-cost dashboards with few peripheral components are realized. The H8S/2280 has no CAN interface and is only used for small cars without a car network and dashboards for popular cars.
The CAN interface of the H8S/2282 has one channel, and the information from other electronic systems such as the engine ECU (electronic controller) can only be displayed through the CAN interface, so it is used for the car dashboard with the CAN interface. Using the H8S/2280, the dashboard platform of the H8S/2282 is shown in Figure 2: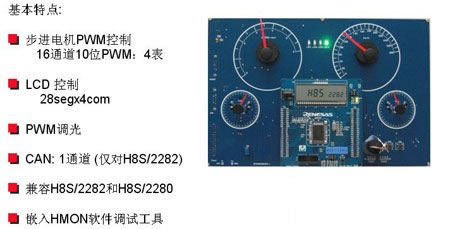 Figure 2 H8S/228x instrument solution
In addition to the engine ECU, the current car is equipped with ESC (Electronic Stability Control), EPS (Electronic Power Control), and air bag. Various electronic systems such as BCM (body control module) and navigation are connected via CAN interface. In line with this, the dashboard is required to display a variety of information. In other words, the dashboard is the hub for the exchange of various information of the car, and must have the communication function of the CAN interface. Such a dashboard is suitable for the 32-bit MCU H8S/1544. The CAN interface has two channels, one for the CAN interface of the engine ECU, ESC, EPS and other important controls; the other channel can be used as the CAN interface for other information. Sometimes a gateway function between 2-channel CAN interfaces is required. The dashboard that configures the CAN interface will flow unnecessary data. To clarify many of these data streams and select the necessary data, a high-speed data processor is required. Such dashboards are commonly used with inexpensive LCD modules. The LCD module displays a large amount of data, or because it is necessary to display a foreign language, so the MCU often uses a large-capacity flash memory, which is applicable to the H8SX/1544, which has 512 KB of flash memory and 24 KB of SRAM. The dashboard platform using H8SX/1544 is shown in Figure 3: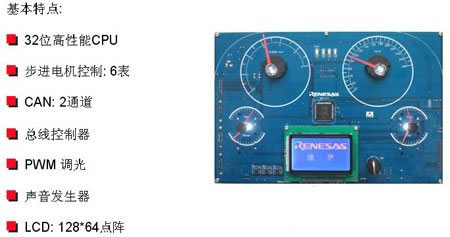 Figure 3 H8SX/1544 CAN instrument solution
The graphics dashboard that is now being noticed is showing more information. There are two types of graphical instrument panels as shown in Figure 4. One is the instrument panel that adds TFT-LCD display graphics in addition to the traditionally driven stepper motor. The other is that the instrument has no moving parts. Full graphic instrument panel for large TFT-LCD displays.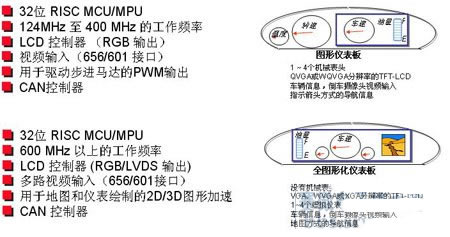 Figure 4 is a rough classification of graphical meters
The instrument panel used in combination with the TFT-LCD is not too expensive, and uses a medium-sized QVGA or WQVGA-sized TFT-LCD. The car diagnostic information and safety information displayed on the display are easy for the driver to see. At the same time, through the software change, the image behind the car back can be displayed, and there is an easy navigation function with arrows indicating the forward direction. The driver's recognition ability is improved and the safety is significantly improved. European automakers have adopted plans not only for premium cars but also for mid-size cars.
To implement such a dashboard, high-speed processing of the device is required, using a 32-bit microcomputer with a speed exceeding 100 MHz. Renesas offers 32-bit SH7262 and SH7264 microcomputers for this application. Samples are being supplied and production will begin in May this year. Thanks to the built-in 144MHz 32-bit SH-2ACPU, video display controller and video input interface for displaying graphics and video images, and 1MB SRAM for 2 frames of WVGA (480x240 pixels) TFT-LCD frame buffer, it has been greatly reduced. Add parts. The SH7262 has a built-in PWM timer that controls the stepper motor. It combines an MCU for an inexpensive instrument panel that drives a stepper motor, and can produce several types of instrument panels with different functions. The SH7264 has a built-in PWM timer that controls four stepper motors, so only one can make a complete dashboard.
The graphical dashboard concept using the SH7264 is shown in Figure 5, and it can be seen that there are few additional parts. Figure 6 shows the evaluation board using the SH7264 instrument panel. In order to make the user easy to develop, the company provides software such as instrument evaluation software, image library, and converter for converting bitmap data RGB output.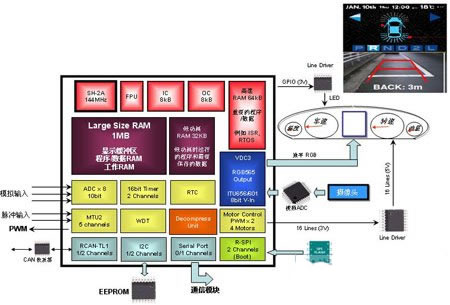 Figure 5 SH7264 graphical dashboard concept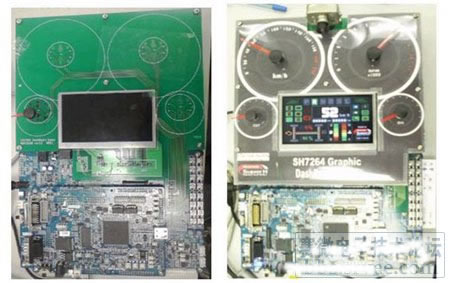 Figure 6 SH7264 Evaluation Board
There is no movable part like a meter, and a full-size display panel (shown in Figure 7) using a large TFT-LCD display has been deployed in some premium cars in Japan since last year. The display of the walking mode has been changed, the image of the night vision camera and the navigation screen have been added, and the most appropriate display has been realized by the replacement software, and thus it has received special attention as a navigation device of the future. This navigation device uses Renesas' 32-bit microcomputer SH7751R. The SH7751R consists of a 240MHz 32-bit SH-4 CPU and a microcomputer with multiple peripheral circuits. The newly developed dashboard will feature the SH7786 with two higher performance 533MHz, 32-bit SH-4A CPUs.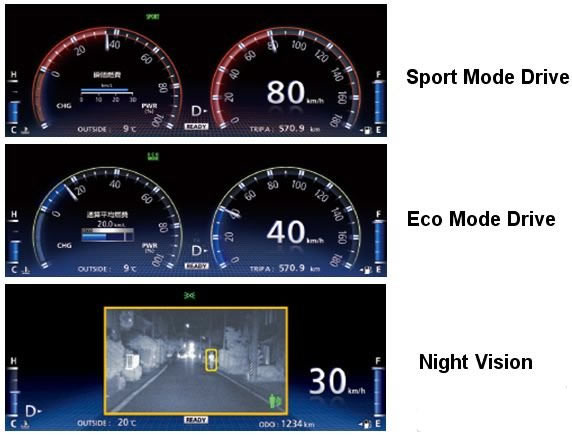 Figure 7 Full graphical dashboard
WIFI Antenna Description
Wi-Fi wireless networking works by sending radio transmissions on specific frequencies where listening devices can receive them. The necessary radio transmitters and receivers are built into Wi-Fi enabled equipment like routers, laptops, and phones. Antennas are key components of these radio communication systems, picking up incoming signals or radiating outgoing Wi-Fi signals. Some Wi-Fi antennas, particularly on routers, may be mounted externally, while others are embedded inside the device's hardware enclosure.
Wifi Antenna (2.4G Antenna) is one kind of wireless antennas.The main operating frequency of WLAN is 2.4Ghz and 5.8Ghz.
WiFi antenna(WLAN antenna)is installed on wireless devices like WLAN AP to reinforce signal strength.Wireless device will radiate signal in air at specified frequency 2.4Ghz or 5.8Ghz through WiFi antenna/WLAN antennas and allow other WLAN devices like NB or smartphone to get signal at same frequency range.
WLAN or WiFi is based on IEEE 802.11a,802.11b,802.11g,802.11n standards.WLAN or WiFi provides a connection through a WLAN AP,and this technology allows people can be connected to the networks within a coverage area.
WiFi Antenna specifications
Frequency range: 2400-2500Mhz
V.S.W.R : ≤1.5
Gain-dBi : 7
Polarization : Vertical
Impedance-Ω : 50
Max. Input Power-W : 50
Connector : SMA
Picture Show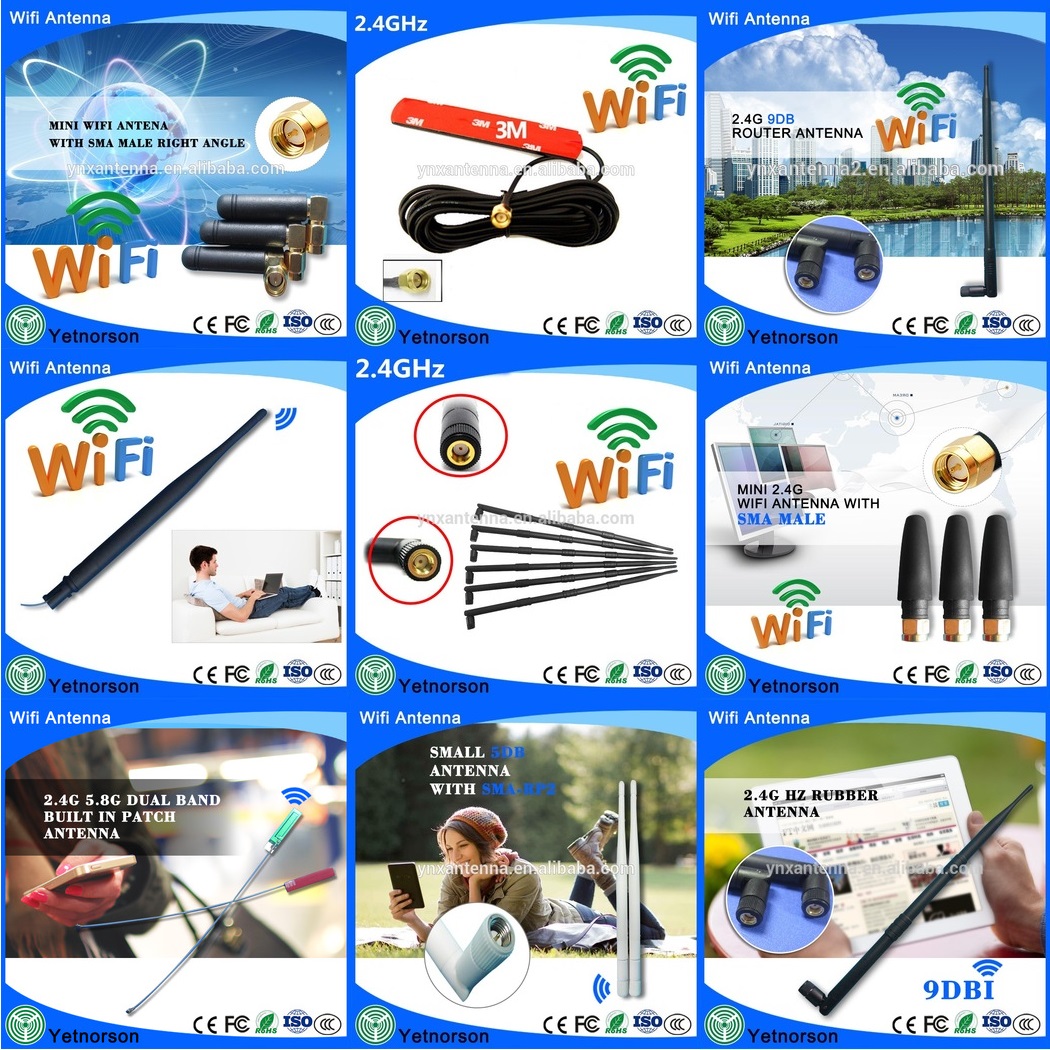 WIFI Antenna
Wifi Antenna,LTE WiFi Antenna,Omni GSM Wifi Antenna,Gain Rubber WIFI Antenna
Shenzhen Yetnorson Technology Co., Ltd. , http://www.yetnorson.com